All of this month's books share unique elements of the Catholic faith through collections of short stories. The featured books explore Sacraments, Relics, and Miracles. These books offer fantastic ways to learn more about Catholicism. Whether you are a cradle Catholic or are simply curious about the Church's teachings, these books offer the inquisitive mind plenty to contemplate.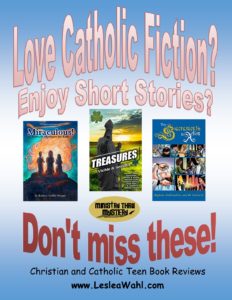 Before we begin…
In case you are new to my blog, besides writing YA novels, I love reviewing them as well. Every month I post about 3 YA books that I've read each month in a new genre. I also send out quarterly posts marked UPDATES regarding news about my own work.
But for those of you who have kids, or grandkids, or you yourself like teen books (like me!), each month, I'll introduce some of my favorite Christian and Catholic YA books.
I've decided to provide more reviews because there are a few things I've learned since I had my first book published:
1 – So many of the teen books published by the big publishing companies contain messages that don't match the values of many families.
2 – There are a lot of fantastic, clean, faith-based books out there – books that are entertaining yet wholesome and reflect Christian values.
3 – These types of books can be difficult to find. So, I'd like to introduce you to a few new adventures.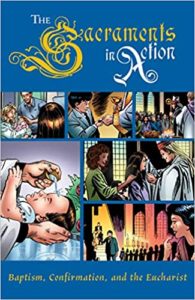 I've been enjoying Sophia Press's collection of graphic novels about Saints, so when I discovered they had a similar book about the sacraments, I was anxious to check it out. This graphic novel provides an interesting look at the sacraments of Baptism, Confirmation, and First Communion. Through short stories about fictional characters, these elements of faith are brought to life.
This quick read follows the characters of Hannah and Andy through three short stories. I like that these stories show the characters living their faith and encouraging others to do so as well. Sacraments are part of our spiritual journey and should form who we are. They are meant to enhance our lives, not just be programs we feel obligated to complete. As we learn more about our faith, our very lives should reflect the Christian values that we hold dear, and that is what these stories show, teens who proclaim their faith through their daily actions.
This was a unique way to teach foundations of Catholicism and could be a great resource for anyone who has questions about these sacramental pillars of our faith.
Miraculous!: Catholic Mysteries for Kids by Kathryn Griffin Swegart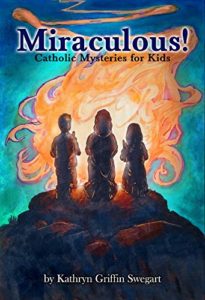 Usually, my book suggestions are geared toward teens. However, I couldn't resist sharing this gem by Kathryn Griffin Swegart. While it is written for children, this book is full of true miraculous stories that everyone will find fascinating.
Years ago, when I first joined the working world, I marveled at one of my coworkers, who always seemed to know a bit about everything. He once shared his secret with me. When he wanted to learn more about a subject, he would visit the library and select a children's book about the topic. He explained that because children's books are short and simple, they provided a basic understanding that anyone could understand.
This book is a perfect example of that concept. Once you read about some of these amazing true stories, you may find yourself researching them even further—I know I did. There were several fascinating incidents that I had not heard of before and found them absolutely awe-inspiring. Immediately I had to spend some time discovering more about them.
I have reviewed several books by this author and am always impressed with the intriguing details about the Catholic faith that permeate her work. Through her children and teen books, readers will discover inspiring stories about incredible faithful servants.
Treasures: Visible and Invisible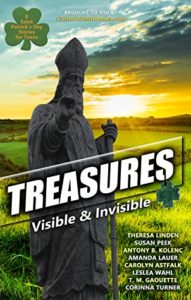 Treasures: Visible and Invisible is the third anthology by the authors at CatholicTeenBooks.com. I am so honored to be part of this group as well as one of the contributing authors to this project. Treasures is the first book in our short story collection where the stories are connected.
Each fictional tale involves a relic of St. Patrick. What is a relic? Great question! A relic is something that once belonged to one of the recognized saints of the church. A first-class relic would be part of their body, usually a fragment of bone. A second-class relic is an item that belonged to a saint. Relics are not only interesting pieces of history but throughout the ages, there have been many accounts of miracles surrounding these artifacts.
This book was such a joy to collaborate on. The eight authors who were able to participate all chose a time period to write from. The first story revolves around St. Patrick and a special fictional item. The item finds itself being passed through history in various ways, making an appearance in each story. The final story in the book is a futuristic, dystopian story. As with all our anthologies, the individual stories are all quite unique. Whether you enjoy Saint stories, historical fiction, mystery, romance, or adventure, you will be sure to find this edifying collection enjoyable and inspiring.
All these books can be found on Amazon. I've set links – just click on the highlighted titles. For those who don't use Amazon you can also check Barnes and Noble online or www.indiebound.org where you can search for books and the local bookstores that might carry them or order them directly from the website. You can also ask your local bookstore or library to order the books for you.
Next month I'll be reviewing three more Christian/Catholic teen novels. But if you'd like more reviews before then you can always check out my recommendation section on my website: YA Recommendations.
If you've come across this post on Facebook and would like to get my monthly reviews sent directly to your inbox, you can sign up on my website – www.LesleaWahl.com.
Until next month – Happy Reading!