Monthly Book Reviews – Mysteries
October is upon us, which means it's time to highlight books from my favorite genre—mysteries. This month's three books are all perfect for teens in middle school and above. Each of the books follows the adventures of a group of friends. And they all feature likable characters with strong moral compasses that lead them through a trying time. So, as the weather cools, cozy up and grab an adventurous mystery!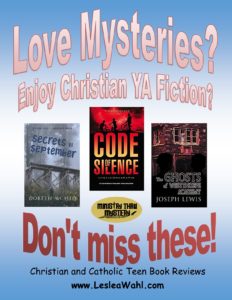 Before we begin…
In case you are new to my blog, besides writing YA novels, I love reviewing them as well. Every month I post about 3 YA books that I've read each month in a new genre. I also send out quarterly posts marked UPDATES regarding news about my own work.
But for those of you who have kids, or grandkids, or you yourself like teen books (like me!), each month, I'll introduce some of my favorite Christian and Catholic YA books.
I've decided to provide more reviews because there are a few things I've learned since I had my first book published:
1 – So many of the teen books published by the big publishing companies contain messages that don't match the values of many families.
2 – There are a lot of fantastic, clean, faith-based books out there – books that are entertaining yet wholesome and reflect Christian values.
3 – These types of books can be difficult to find. So, I'd like to introduce you to a few new adventures.
Code of Silence by Tim Shoemaker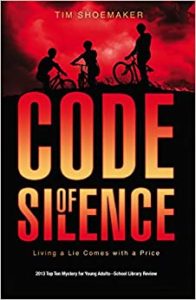 I absolutely loved this middle-grade book. The story starts quickly with Cooper and his two friends witnessing a crime. Afraid that the perpetrators will track them down, they make a pact—the Code of Silence. They believe by remaining silent, they will keep themselves safe and protect those that are suddenly in danger. But as they continue with this agreement, the lies they must tell continue to grow, ultimately threatening their friendships.
This book has so many amazing discussion topics. As a reader you sympathize with Cooper and his decisions, but they do bring up some fantastic moral dilemmas. Is it ever okay to lie? Is keeping silent different than being untruthful? How would you act in a similar situation, when things aren't black and white? What do you do when you aren't sure who you can trust?
The best part of the story is that throughout the difficult moments, Cooper and his friends continue to pray and try to do the right thing. And lucky for readers, this exciting, action-packed story is the first in a series.
Secrets in September by Doreen McAvoy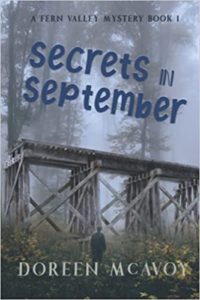 Secrets in September is a fun middle-grade novel, perfect for those younger teens who love a good mystery. The enjoyable characters and Christian messages intertwine throughout this book that is also the first in a series.
When Will and his twin sister Wendy begin their fall school semester, little do they know that they and their friends will be caught up in a series of mysteries that will make this September one to remember. When strange things begin to happen around town, Will, Wendy, and their friends start investigating. Who is the mysterious new girl in town? What trouble is the class bully involved in now? And what really happened at the creepy, abandoned house down the block?
Kindness, friendship, and faith make this story a wonderful choice for middle-grade readers. The values and faith of this of group friends was refreshing. They were average kids who sometimes made questionable decisions but, in the end, helped each other to choose the right path.
The Ghosts of Westthorpe Academy by Joseph Lewis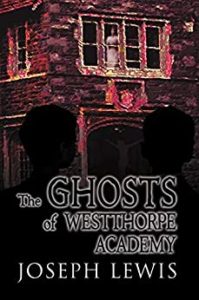 This contemporary faith-based novel combines an intriguing mystery with speculative elements.
Joe is an ordinary kid. A good student who has an incredible opportunity to attend a prestigious private Catholic school—Westthorpe Academy. All seems to be going well—new friends, great teachers, lots of activities—until rumors start swirling that the historic Westthorpe Academy is in danger of closing. Soon Joe's ordinary life is changed by unusual events. Are his supernatural visits and vivid dreams just strange coincidences or messages from God?
There is a lot to enjoy in the book, the mystery, the faith, and the interesting historical facts. I found it refreshing to read about a good kid with nice friends and a supportive family. But don't worry, there is plenty of drama and excitement that will keep you turning the pages.
All these books can be found on Amazon. I've set links – just click on the highlighted titles. For those who don't use Amazon you can also check Barnes and Noble online or www.indiebound.org where you can search for books and the local bookstores that might carry them or order them directly from the website. You can also ask your local bookstore or library to order the books for you.
Next month I'll be reviewing three more Christian/Catholic teen novels. But if you'd like more reviews before then you can always check out my recommendation section on my website: YA Recommendations.
If you've come across this post on Facebook and would like to get my monthly reviews sent directly to your inbox, you can sign up on my website – www.LesleaWahl.com.
Until next month – Happy Reading!