This month I'm reviewing three Science Fiction novels. Two are set in space, one is a more modern story. I chose one for older teens, one fairy-tale retelling, and one short story. While these Catholic tales have their differences, they share one common thread—all are fabulous stories with intriguing moral dilemmas.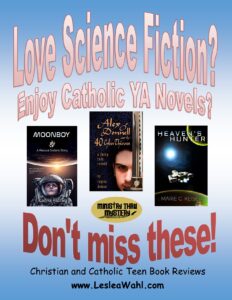 Before we begin…
In case you are new to my blog, besides writing YA novels, I love reviewing them as well. Every month I post about 3 YA books that I've read each month in a new genre. I also send out quarterly posts marked UPDATES regarding news about my own work.
But for those of you who have kids, or grandkids, or you yourself like teen books (like me!), each month, I'll introduce some of my favorite Christian and Catholic YA books.
I've decided to provide more reviews because there are a few things I've learned since I had my first book published:
1 – So many of the teen books published by the big publishing companies contain messages that don't match the values of many families.
2 – There are a lot of fantastic, clean, faith-based books out there – books that are entertaining yet wholesome and reflect Christian values.
3 – These types of books can be difficult to find. So, I'd like to introduce you to a few new adventures.
Heaven's Hunter by Marie Keiser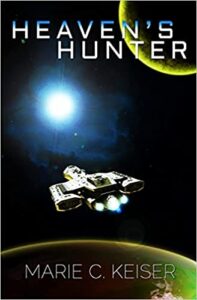 I haven't read many Christian sci-fi stories, so I was excited to check this one out. And I'm so glad I did. Detective Randall Yung of the Galactic Fleet only wants to serve his government and keep the galaxy safe, despite the fact that his wealthy, powerful family does not view his career choices as worthy. However, when his newest assignment makes him question everything he's ever been told, his world is turned inside out. Could the government really have been changing history and keeping the facts from their citizens? Could it be possible that the dangerous rebellion initiated by Catholic groups is something other than what he'd been taught?
As Randall delves into the past to answer lingering questions, the truths he discovers will put him into even greater danger, threatening his reputation, his job, and even his life. I enjoyed the main character, although I would have loved to get into his head a little more. While I appreciate his stoic and regimented personality, I would've loved to see more of his personal angst and turmoil. The book's message of standing up for what is right is a message for our times. It can be much easier to just go along with the status quo. Thank goodness for those who remain steadfast in discovering and defending honor and truth. May more of us strive to be like Randall Yung. Great debut novel.
Moonboy by Karina Fabian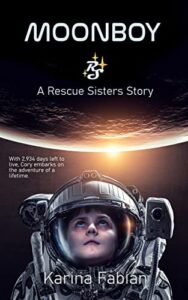 Moonboy is a very short story and part of the author's Rescue Sisters series. Several years ago, I read, and thoroughly enjoyed, one other book in this series about a group of nuns who travel around the universe helping people. If you like fantasy and science fiction novels, this author is one to check out. The unique worlds she creates are not only fascinating but also entertaining. While most of her novels have adult characters, older teens would find them engaging as well. Since I normally review teen novels, I was excited to discover this short story about a teen boy. Cory Taylor, however, is no ordinary teen. Cory was born on the moon and, due to the differences in atmosphere, is unable to safely leave the moon. But all he wants is to experience a grand adventure, like that of his favorite fictional character.
However, when he concocts a plan to do just that, things go awry, and he finds himself stuck on an isolated part of the moon with several nuns and a priest. While not what he had hoped for, his botched escape gives him the adventure of a lifetime. This short story brings up some interesting topics that could lead to some fantastic discussions about science, technology, and faith. I really enjoyed this character and hope there might be a full-length book featuring him one day.
Alex O'Donnell and the 40 Cyber Thieves by Regina Doman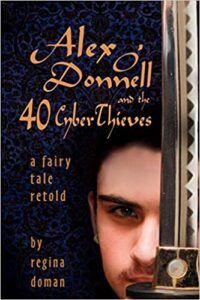 If you like your science fiction a little more realistic and modern, then this next choice might be for you. Alex O'Donnell and the 40 Cyber Thieves is part of Regina Doman's Fairy Tale Novels series of books—each a modern retelling of a classic fairy tale.
Fans of Regina's novels will be happy to know that Alex O'Donnell and his girlfriend Kateri are returning characters from one of the books in this series. I'd only read one other book by this author, so was unfamiliar with these characters, but really enjoyed them—especially Alex. There was just something about Alex and his family that was quite endearing, so I was a bit frustrated when Kateri didn't seem to appreciate her boyfriend and his family as much as I did.
When an unexpected event creates a dramatic life change for college student Alex and his family, they begin a new exciting adventure. After graduating, Alex's girlfriend, Kateri, is unsure about her future and relationship. But the family's unique circumstances create an opportunity for her that she can't pass up. Is this new venture the perfect way to draw the family closer together, or is it all too good to be true?
This book is full of intrigue with some wonderful elements of faith and action. I enjoyed the topics this book addressed about our society's obsession with video games and technology. The cyber aspects were equally fascinating and frightening.
All these books can be found on Amazon. I've set links – just click on the highlighted titles. For those who don't use Amazon you can also check Barnes and Noble online or www.indiebound.org where you can search for books and the local bookstores that might carry them or order them directly from the website. You can also ask your local bookstore or library to order the books for you.
Next month I'll be reviewing three more Christian/Catholic teen novels. But if you'd like more reviews before then you can always check out my recommendation section on my website: YA Recommendations.
If you've come across this post on Facebook and would like to get my monthly reviews sent directly to your inbox, you can sign up on my website – www.LesleaWahl.com.
Until next month – Happy Reading!