Welcome to Leslea's August edition of
News, Clues & Reviews!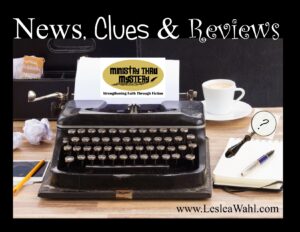 Each bimonthly update provides news about my writing, faith-based book recommendations for the whole family, and an online game or puzzle to satisfy your inner detective.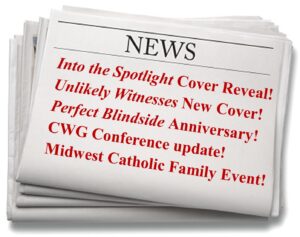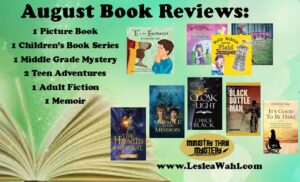 Scroll down for all the details and book reviews.
August News:
Into the Spotlight Release!
Drum roll, please! Here's a sneak peek at the cover for Into the Spotlight!
(Formerly An Unexpected Role)
Into the Spotlight is the first book in my new Finding Faith series.
The official re-release date is Oct. 24th!
New Cover for Unlikely Witnesses!
Another new cover! I've changed the cover of my novella, Unlikely Witnesses, to match the other covers in the short story series, all for One. If you'd like to be the first to spy the new look, CLICK HERE, to solve the puzzle.
The Perfect Blindside Anniversary!
It's hard to believe, but The Perfect Blindside is turning 7 this month!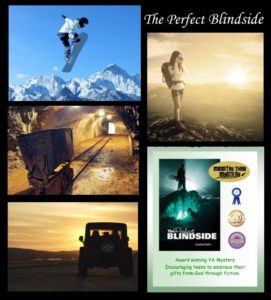 Answering God's call to write that book started a whole new chapter in my life. I began my writing ministry, grown in my faith, and developed so many new, meaningful friendships. Starting next week, I'll be featuring different fun facts about this book on my Leslea Wahl Facebook page and my MinistryThruMystery Instagram account.
Catholic Writers Guild Conference!
Last week I was able to attend the Catholic Writers Guild Conference. This event is always one of the highlights of my year. Catching up with friends, meeting new folks, and attending fantastic presentations always rejuvenates and inspires me.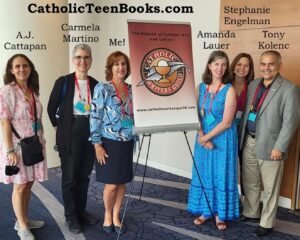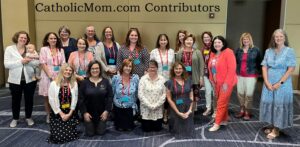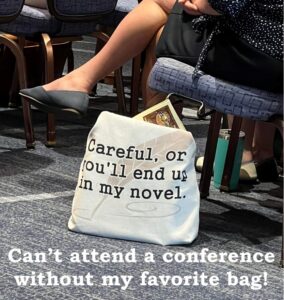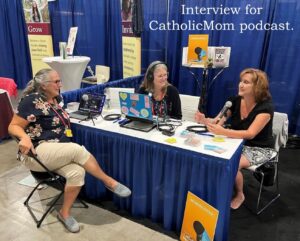 If you're an aspiring author and would like more info on the Guild, CLICK HERE.
Join me in Wichita!
In a few days, I'll be heading to the Midwestern Catholic Family Conference in Wichita, KS. I'll be representing Catholic Teen Books. Stop by if you're planning on attending!
Reviews:
E is for Eucharist by Claudia McAdam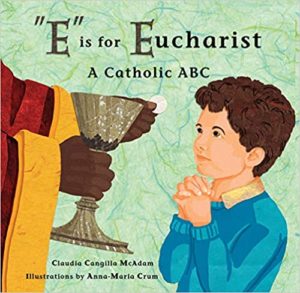 What a wonderful gift this book would make! This rhyming book is a fantastic way to teach parts of the Catholic faith to little ones. The amazing illustrations add so much to the beautiful book. I happen to be friends with both the talented author and amazing illustrator—both have helped me throughout my writing journey.
Molly McBride series by Jean Schoonover-Egolf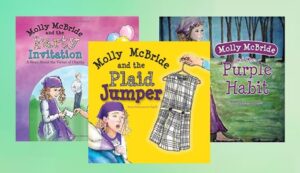 I adore the Molly McBride books. They are such wonderful stories to read with your children that also provide a fantastic tool to help teach Christian values. The author does a beautiful job of including important messages among the fun characters and lovely illustrations, adding another interesting layer to the stories.
The Haunted Cathedral by Antony Kolenc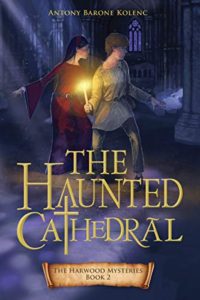 This is the second book in Antony Kolenc's Harwood Mysteries, and the reader once again joins Xan and Lucy on an exciting adventure. Xan has had so much to deal with in his young life due to the tragic loss of his family. In book one, Shadow in the Dark, he sets out to discover what happened to his parents. In this new story, he must come to terms with the past—not always an easy task.
While the new mystery is intriguing, what really made this story special is the continued storyline of Xan's past and his character growth. The author superbly showed Xan's emotional struggles as he deals with his new life. These books blend adventure, history, friendship, and faith into a marvelous series for middle-grade readers.
Miracle at the Mission by Joe Lewis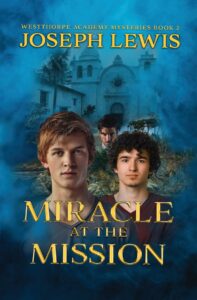 Looking for the perfect blend of relatable characters, fascinating history, intriguing mystery, and strong faith? Look no further than Miracle at the Mission. Author Joseph Lewis' vivid descriptions of the California coast help sweep the reader away on an epic adventure.
High school friends Joe and Pete are honored with a trip to California. Their exciting trip leads to one they will never forget. This story is told from many different angles, creating a richly compelling story. I also enjoyed how the current historical elements make this story a time capsule of the unique era we are living in.
The Cloak of Light by Chuck Black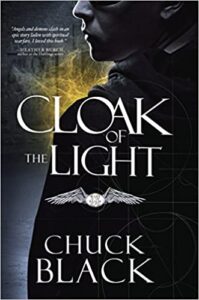 This was one of those books that I couldn't put down. This speculative YA novel has so much going for it—adventure, action, faith, and a blossoming romance. While some of the beginning chapters felt a little drawn out, as the backstory was presented, I kept turning the pages, anxious to discover what would happen next.
Drew Carter has had a lot of tragic setbacks in his life. Thankfully, between his devoted mother, his protective mentor, and his steadfast best friend, he has been able to make it through those devasting challenges. But there is one thing he does not have in his life—faith. He fails to understand how others can cling to their unfounded beliefs—especially Sydney, the one girl he's never been able to get out of his mind.
When Drew helps his friend Ben look into their college professor's disappearance, his life is altered forever. He suddenly sees things that others do not—evil invaders that are threatening society. In order to save the world from these unseen enemies, Drew must somehow prove that he is not crazy.
I really adored the main character. His persevering spirit, kind heart, determination to fight for justice, and mad survival skills make him a hero you can't help but root for. Beware, though, this is the first book in a series and, if you're anything like me, you will immediately want to start the chapter of Drew's story.
Speculative stories are always fascinating. Imagining the spirit world around us, the battles that circle around us, keeping us safe, is worth thinking about.
Black Bottle Man by Craig Russell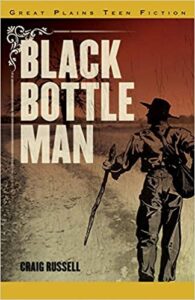 I've never read anything quite like this book. The writing was excellent, immediately drawing the reader into this unusual story. After his aunts make a deal with the devil, Rembrandt spends decades wandering, searching for a champion to defeat the evil one. Not surprising, given the premise, there are some disturbing elements to the story, so I'd recommend it for older, mature teens or adults. The secondary storyline was quite compelling. The moment I finished, I longed for some kind of discussion group where we could dissect this unique tale.
It's Good to Be Here by Christiana Chase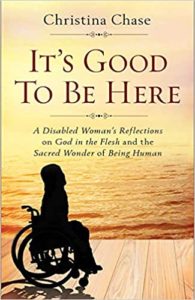 I was excited to read this book and expected to find it inspirational, but I was completely blown away. What a treasure! Christina Chase's It's Good To Be Here is bursting with incredible insights, amazing personal stories, and beautiful nuggets of faith.
Author Christina Chase is a woman who suffers from a debilitating disease. Maybe because of her own struggles, she brings unique thoughts and perspectives to Bible passages. This inspiring book is not necessarily aimed at teens, but I would highly recommend it for young people. She has such a wonderful ability of explaining concepts and ideas in a new way. This woman's incredible joy for life, despite the hardships she has endured, is truly inspiring. Witnessing her extraordinary faith through stories of her own life encourages readers to evaluate their lives in a new light. This book would be a phenomenal book to read as a family.
Until next time, happy reading!