Welcome to Leslea's October edition of
News, Clues and Reviews!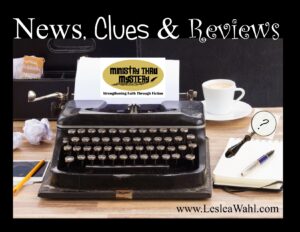 Each bimonthly update provides news about my writing, faith-based book recommendations for the whole family, and, to bring out your inner detective, an online game or puzzle.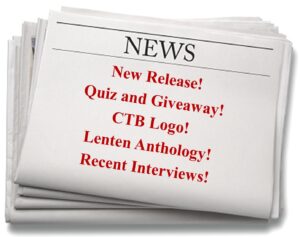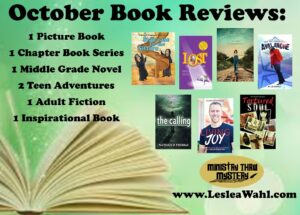 Scroll down for all the details and book reviews.
October News:
New Release – Into the Spotlight
Into the Spotlight (formerly An Unexpected Role) will be released on October 25th!! This book is the first in my new Finding Faith series. Each book will feature a different main character. You can preorder the book now or even review it early on Netgalley.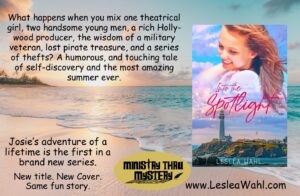 Help me celebrate this re-release by discovering out how well you know Josie's story through a quick quiz. But don't worry, even if you haven't read the story, anyone who takes the quiz will be entered to win a signed copy of this new book. And you'll discover a few intriguing CLUES about this story that has always held a special place in my heart. QUIZ
Interviews
I was blessed with the opportunity to do two interviews over the last few months.
I joined Allison Gingras on her A Seeking Heart with Allison Gingras to discuss CatholicTeenBooks.com, as well as my own writing. Please share this link with anyone you think may be interested in learning more about our group's edifying novels. CatholicTeenBooks.com has plenty to offer families, schools, parishes, and youth groups. HERE 
I also spoke with my friend Jed on his Reading with your Kids podcast to talk about my picture book, To Serve and Protect. HERE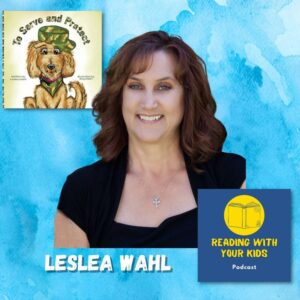 Speaking of To Serve and Protect, keep sharing those pet images. It's been fun to see everyone's furry family members enjoying Siena's story.

CTB logo
CatholicTeenBooks.com now has a logo! We've been discussing it for a while, but now have a cool new image. What do you think?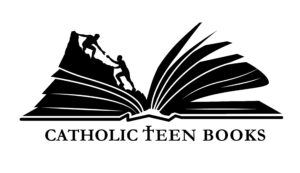 Lenten Anthology: Ashes: Visible and Invisible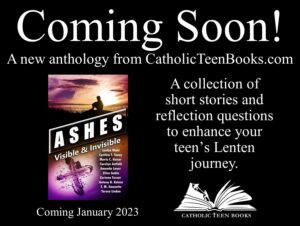 CatholicTeenBooks.com is working on a new anthology to add to our growing Visible and Invisible collection. This new set of short stories will be a perfect book for teens as they travel through Lent in a few months. Each faith-filled story reflects on the season of Lent through engaging characters and all new adventures.
I'm very excited about my story which features a special tribute to my father who passed away a few months ago. I couldn't think of a better way to honor him. Keep watch for more details!
Reviews:
Staircase for the Sisters by Pamela Love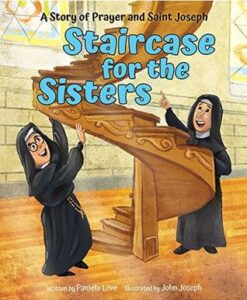 What a delightful book about the miraculous staircase in Sante Fe, New Mexico. The story behind this unexplained staircase is simply amazing. I've had the privilege of seeing this miracle in person. This beautifully illustrated picture book is one that the whole family will be enamored with.
Adventures of Sister Philomena by Dianne Ahern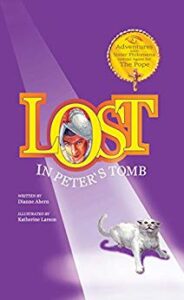 I've only read the first book in this series, Lost in Peter's Tomb, but found it a delightful mystery for families. This chapter book would be perfect for a family with multiple aged children who enjoy reading together. The illustrations and short chapters make this one that even younger siblings would appreciate.
A family trip to Rome sounds exciting, but instead of touring the country with their parents, Riley and his younger sister must spend time with their aunt. Riley is less than thrilled because Aunt Philomena is a nun and lives in a convent! Who could have fun there? But when Aunt Philomena gets a phone call, things change. It turns out she is a special agent for the Pope and has been called by the Holy Father to help solve a mystery at the Vatican.
Thus, begins their adventure. During their time at the Vatican, they meet one of the Swiss Guards and find out all kinds of interesting things about the building, the artwork, the artifacts, and the lineage of Popes. This was a fun story with some great history and theology elements. The other adventures of Sister Philomena include: Break-in at the Basilica, Curse of the Coins, and Secrets of Siena.
Moon Over Manifest by Clare Vanderpool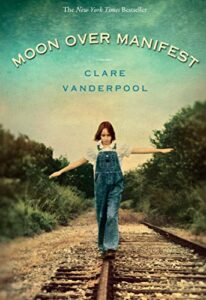 This Newbery Medal-winning novel is a delightful, engaging story. Set during the depression in a small Kansas town, this redemptive tale features a unique cast of characters, witty dialogue, and a young feisty heroine.
Abilene Tucker is less than thrilled when she arrives in Manifest, Kansas, where she knows no one. Unsure why her father sent her there, she begins to search for answers. As she interacts with the townsfolks, she uncovers some clues to a mystery from the past. However, the more she uncovers about the town of Manifest, the more questions arise about her own background.
Author Clare Vanderpool is a gifted storyteller. The novel is filled with history, humor, and heartfelt moments that blend together perfectly. I loved how the story was revealed through newspaper clippings, shared memories, and Abilene's growing friendships. While this middle-grade story is not specifically a Christian novel, it is a wonderful, inspiring, and clean novel that readers will love.
The Calling by Nathan Thomas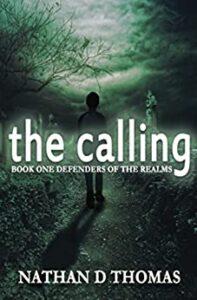 This is a speculative story – the author's idea of what might be happening around us in a spiritual realm. If you enjoy speculative fantasy, you'll probably really like this enjoyable read.
Teenager Eli is devastated. His beloved grandfather has just passed away. While everyone gathers after the funeral, Eli goes off alone – needing time to deal with his grief. In a moment of quiet contemplation, he chooses to honor his grandfather's wishes and truly turn his life over to Christ. This momentous decision changes everything. Suddenly Eli finds himself in a spiritual realm. If he has the courage to answer his calling, he will begin his mission of defeating evil and defending the faith in both the spiritual and the earthly realms.
This first book in the series is an action-packed adventure focusing on Eli's training. In order to become a Defender of the Realm, this young teen must first complete several challenges. As Eli works to prove himself worthy of this Holy mission, his newfound faith and internal strength are put to the test.
Avalanche: Off The Itinerary book 1 by M. Liz Boyle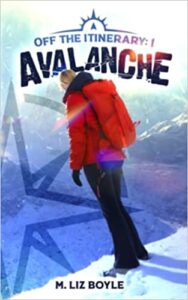 A friend first told me about this teen adventure series, thinking I may be interested in it, and I'm so glad she did. Not only did I enjoy this book, but the author and I immediately connected. She even asked me to write a guest blog for her newsletter about the importance of Christian fiction. LINK
This Christian adventure story drew me right in with the opening line. "As I felt the wall of snow crash into me and sweep me down the mountain like an autumn leaf, I would have given almost anything to take back my decision to go along with this reckless idea." Well, I certainly needed to find out what happened next!
Avalanche is told from the perspective of Marlee Stanley, who joins her two sisters and the sons of family friends on a secretive middle-of-the-night hike. Their fathers are mountaineers and have trained their children in mountain climbing and survival techniques, but when the teens encounter an avalanche, their skills are truly put to the test.
I enjoyed the many moments of faith, the growth in the characters, the mountaineering terms, and the survival tips that the author sprinkled into the story. I've already purchased the other two books in the Off The Itinerary series, Chased and Ablaze, and look forward to new adventures with these characters.
Tortured Soul by Theresa Linden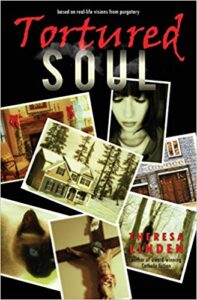 Oh, my goodness – where do I begin? I've been a fan of Theresa Linden's writing for quite a while now. Her West Brothers series is one of my all-time favorites, her Liberty dystopian books are thought-provoking page-turners, and her children's book series, Armor of God, is absolutely charming. However, despite my knowledge of her previous work, I was completely unprepared for this book.
While Tortured Soul is based on the experiences of a real person, Linden chose to place her version in a modern setting. Knowing this book is based on a true experience made the story even more intriguing. I honestly couldn't read it fast enough. I became consumed with needing to know what happened next. And in the end, this unbelievable tale made me think about the power of prayer in a whole new way.
The story is about Jeannie, a lonely young woman who desperately misses her deceased parents. In many ways she continues to live in the past, unable to let go of her heartache. When she must move out of her family home and into a new house, her troubles really begin. I don't want to give anything away, but strange things start happening that ultimately force Jeannie to confront the scars of her past.
Theresa Linden's writing just keeps getting better with each book I read. I've always known of her knack for creating unique characters and her seemingly effortless descriptions that have a way of putting you in the middle of the story. And now I know she's also a master of creating intense suspense. Only one warning – don't read this one before bed!
Living Joy by Chris Stefanick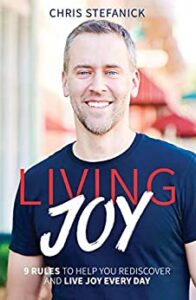 Chris Stefanick is one of my favorite Catholic speakers and media personalities. His positive messages, passionate faith, and obvious joy of life is inspiring and contagious. This book focuses on finding that same joy for our own lives. In this book, he offers simple ideas and strategies to fully live our faith to positively influence those around us.
Until next time, happy reading!