Welcome to Leslea's December edition of News, Clues and Reviews!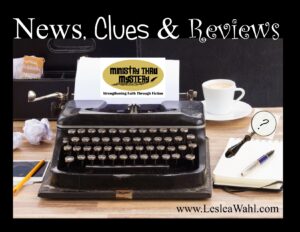 This bi-monthly update provides news about my writing and faith-based book recommendations for the whole family.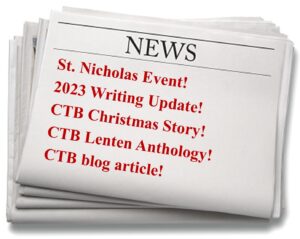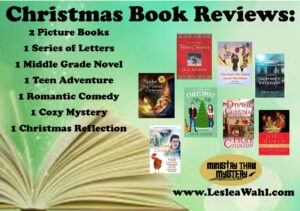 Scroll down for all the details and book reviews.
December News:
Dallas Christmas Event
I will be representing CatholicTeenBooks and Perpetual Light Publishing at a Christmas event in Dallas, the weekend before Christmas. I participated in this great event last year and am excited to attend again. Hopefully, I'll get a chance to hear the main speakers, Chris Stefanick and Father Mike Schmitz. If you're in the Dallas area, please stop by this wonderful family event! Click HERE for all the details!
Writing Update for 2023
I so appreciate all my faithful readers and followers, so I wanted to take a moment to update you on my works-in-progress.
I will have a new release coming out in June—Charting the Course. This will be the second book in my new Finding Faith series. It is the story of Liz, the best friend of my character Josie from Into the Spotlight (formerly An Unexpected Role). This exciting adventure is set on a cruise ship.
In 2023 I will also be releasing the 4th short story in my all for One series, The Master Plan.
I am still working to find a home for my finished manuscript, A Summer to Treasure. I know God has a plan for this book. I'm trying to be patient as I wait for it to be revealed.
In 2023, my writing will focus on finishing my third Blindside book, Ultimate Blindside.
CTB Christmas Story for charity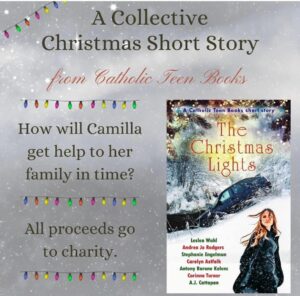 HERE is a link to the CatholicTeenBooks collective story we created two years ago.  All proceeds of this fun story go to charity.
For the past two years, CatholicTeenBooks authors have appeared on the Christmas day episode of the Reading with your Kids Podcast to read an original story. The podcast's host, Jed, provides a prompt, then one of our authors begins the story. It is then passed on to another author who continues the story, and so on. Only the final author knows how the story unfolds until we record the episode where we each read our section. The second story we created is listed below in my review section.
A few CatholicTeenBooks authors will be participating in this fun event again this year. We are working on the story now, and it will air on Christmas day on Jed's podcast. LINK
Lenten Anthology: Ashes: Visible and Invisible 
I've recently been sharing about the new CatholicTeenBooks.com anthology that will be coming out for Lent—Ashes: Visible and Invisible. This will be a wonderful collection of stories to help teens deepen their faith during the season of Lent. My story features Liz, who is the main character in my upcoming release, Charting the Course.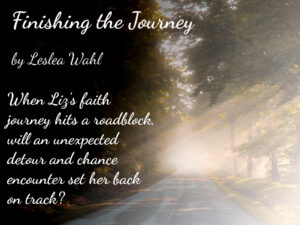 CatholicTeenBooks Article
In November, I shared another article on the CTB blog about stepping out of your comfort zone. You can subscribe to get these inspiring articles sent directly to your inbox. LINK
Reviews:
The Night the Saints Saved Christmas by Gracie Jagla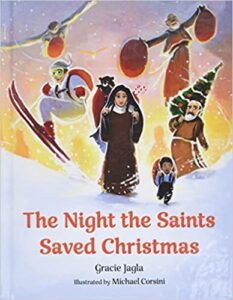 What happens when Saint Nicholas is unable to deliver the Christmas gifts around the world? Well, he calls on his saintly friends to help him out, of course. This cute picture book is a fun way to introduce your little ones to some amazing saints.
The Spider Who Saved Christmas by Raymond Arroyo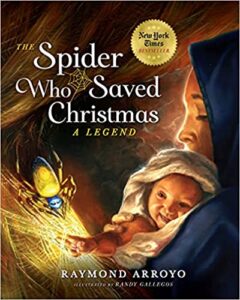 This sweet picture book shares the legend of how tinsel became a Christmas decoration. There are a lot of books about the birth of Jesus, but not so many about the Holy family's flee from Herod to Egypt. The horrific details are subtle, and instead, the story focuses on how when we trust in God, miracles can happen.
Letters from Father Christmas by JRR Tolkien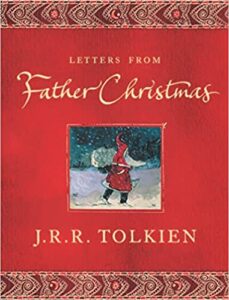 This is a fun collection of letters that JRR Tolkien had written to his children over the course of twenty years. Each Christmas, Tolkien would write a fictional letter from Father Christmas, describing the fun adventures he shared with his furry companion, North Polar Bear. These delightful letters show a new side of the incredibly talented author and offer a glimpse into the happenings of the world during the 1930s and 1940s. I think this would be a fun book to read as a family. I'm sure everyone's imagination will be sparked.
Deception in December by Doreen McAvoy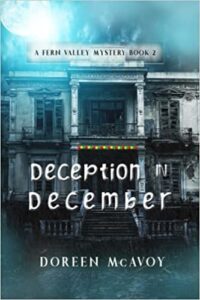 Deception in December is the second book in Doreen McAvoy's middle-grade Fern Valley Mystery series. While this book could be a stand-alone, I'd recommend starting with Secrets in September. Understanding the previous mystery, as well as the character's relationships, will enhance the storyline. The characters in this series are wonderful—from the main protagonists to the supporting cast, they all help to bring the story to life. I especially appreciate the positive messages and life lessons that the author weaves into her stories.
Twins Will and Wendy, and their friends, find themselves involved in another intriguing adventure set at the town's mysterious Mayfield mansion. As Christmas nears, can the twins and their friends uncover who is behind the strange happenings around town that threaten to tear their friend group apart? Can Will regain his confidence, on and off the court? Join the residents of Fern Valley in this heartwarming Christmas-time caper.
A Fowl Christmas – Catholic Teen Books authors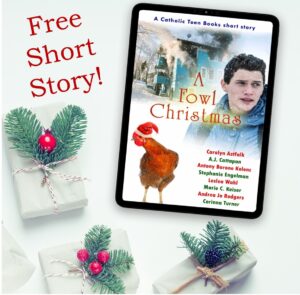 This story is the collective story that CatholicTeenBooks created for the Christmas day Reading with your Kids podcast last year. The podcast's host, Jed, gave us a prompt, then one of our authors began the story. It was then passed on to another author who continued the story and so on. Only the final author knew how the story unfolded until we recorded the episode where we each read our section.
Last year was the second year we were able to participate in this fun, collective story. We have not released the story yet, but are offering it as a free gift to new subscribers to our newsletter! If you already are a subscriber, you can receive the story when you help a friend discover our site. Using this link, when they sign-up, they can list your name as their referral. We are hoping to reach even more families with our edifying fiction, so please help us with our goal and enjoy this madcap Christmas adventure. LINK
Christmas After All by Cece Louis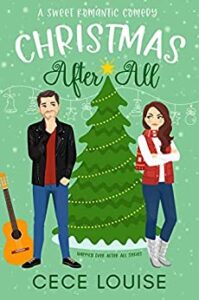 If you love Christmasy rom-coms – then don't miss this one. I don't know what makes these types of stories so appealing, despite their predictability. But give me a feel-good Christmas love story and some eggnog, and I'm one happy girl.
Melissa and Tucker have an unusual past—one they would both like to move on from, but circumstances find them together again in their hometown for the holidays. Have they matured enough to move past the drama? Probably not, but where would the fun be in a mature handling of the situation? These main characters were great-I hope we get to meet them again in another one of Louise's fun romances. Grab a cozy blanket, a cup of cocoa, your favorite Christmas cookie, and curl up with this adorable story.
Divine Christmas by Hope Callaghan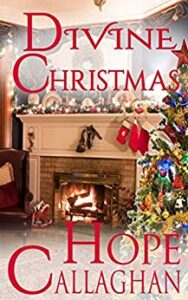 Divine Christmas is book number five in the Divine Christian Mystery series. I have not read any of the previous books, but I wanted to give this Christmas mystery a try. The author did a great job of sharing enough details that I understood who the characters were and their background stories. This cozy mystery is filled with likable characters, an intriguing mystery, and plenty of faith. If you're like me, you may enjoy this story so much that you will want to check out more books in this series.
Joy to the World by Scott Hahn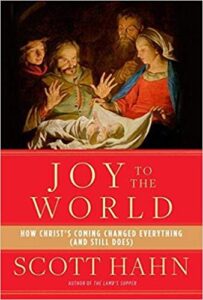 I haven't finished this book yet as I decided it would be a wonderful book to help deepen my Advent journey. I'm really enjoying it so much. Biblical scholar Scott Hahn always does an amazing job providing deep theological issues in an understandable way. This book focuses on the Holy Family and that forever-changing first Christmas and is full of incredible insights. So, if you're looking for a way to enhance your Christmas season, you may want to check this one out.
Until next year, happy reading!