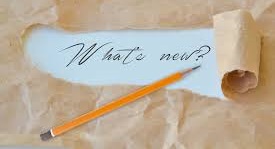 Welcome to my quarterly newsletter. This month's edition is full of exciting news that I can't wait to share! So, let's get to it!!
First exciting news:
You may have seen the posts on Facebook but some of us authors at CatholicTeenBooks.com, have written short stories centered around one theme – Secrets. This anthology will be available starting July 4th. That day, besides being the birthday of our country, happens to be the feast day of Pier Giorgio Frassati – the patron saint of Catholic teens. How perfect is that?
My short story, More Precious Than Gold, combines characters from both my previous novels. Not only will you get to join them on a new adventure, you'll get a taste of six incredible authors that you might not be familiar with – Susan Peek, Theresa Linden, Cynthia Toney, Corinna Turner, TM Gaouette, and Carolyn Astfalk.
Second exciting news:
My third book, Where You Lead, finally has a release date! September 15!! I'm thrilled for this book's release. The opening of this novel was something that popped into my mind over 25 years ago! To have it finally develop into a book is really exciting for me.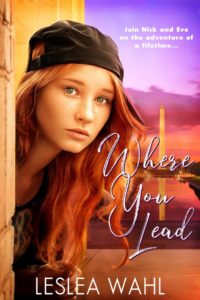 A vision from God leads to the adventure of a lifetime.
Sixteen-year-old Eve Donahue's lonely existence changes in an instant when visions of a mysterious stranger haunt her. Certain God is calling her for a mission, she bravely says yes and begins her quest to meet this young man.
Thousands of miles away, Nick Hammond has been dealing with his own unusual experience, an unwavering certainness to convince his father to run for political office.
When these two unlikely teens finally meet, their belief that God has called them to work together sets them on a journey of faith to untangle a web of deception involving international trade agreements, lost confederate gold, and a blossoming romance. As they follow century old clues, they realize God can call us all in big and small ways. We just need to listen and say, "Yes Lord, I will go where You lead."
Third exciting news:
Drumroll please….
Pauline Books and Media has agreed to publish the sequel to The Perfect Blindside!! Yes! The long-awaited continuation of Jake and Sophie's story will be coming your way next year!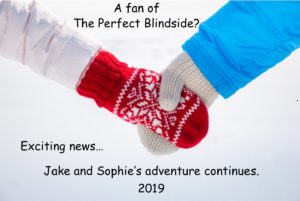 Here is a sneak peek at the tentatively titled eXtreme Deception:
When unusual events, at the premiere extreme winter sports competition, threaten the games, teens Jake and Sophie once again find themselves entangled in a web of deception.
In this thrilling sequel to The Perfect Blindside, join Sophie as she travels into Jake's exciting world of extreme sports. When the premier athletes, at the Mountain Madness games, are plagued with problems, Jake and Sophie become suspicious. As the mystery deepens and danger grows, can this couple unravel the clues before Jake becomes the next victim?  Is their faith strong enough to survive the perils of fame?
Join snowboarding superstar Jake and aspiring journalist Sophie on their next high-flying adventure!
But wait! There is still other news…
An Unexpected Role was chosen by author Erin McCole Cupp to be part of her Sabbath Rest Book Talk. Each month she chooses three books around a common theme and discusses them live on YouTube. An Unexpected Role will be part of August's discussion along with Brideshead Revisted by Evelyn Waugh and The Name Jar by Yangsook Choi. This book talk about belonging will be on Sunday August 5th at 7pm eastern. More information HERE.
As you know, each month here on my blog I review Christian and Catholic teen books. In an effort to reach even more young people with these great faith-based books, I am now sharing monthly book reviews on several websites and on a podcast. These sites might be great places to find more books and inspirations for your families.
Jedlie's Reading With Your Kids Podcast
And finally…
There is a bit of business to take care of. You may have already seen other blogs send out notices about GDPR. This is a European law that is affecting websites here in the US as well. It is a consumer protection safeguard. To comply, I will be sending out a verification email in a few days. All you need to do is click a button to verify that you would like to continue to be subscribed to my newsletter. Please be assured that I would never sell or give away any email addresses and you are free to unsubscribe at any time.  (Although, I hope you don't!)
Okay, that's it for this quarter. Thanks so much for all your continued support!  Happy Reading and God Bless!!