Welcome to my monthly book review! A FREE short story, monthly book reviews, and quarterly updates can be sent directly to your inbox if you sign up for my newsletter. Don't miss a single review!
October always seems like the perfect month to highlight mystery novels. What better time to highlight my favorite genre than during one of my favorite months? Each of the books was intriguing page-turners, so, as the weather cools, why not find a great mystery to cozy up with.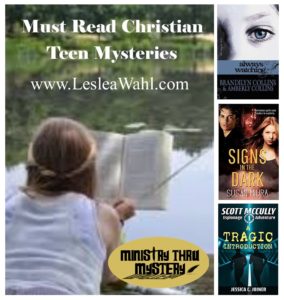 Before we begin…
In case you are new to my blog, besides writing YA novels, I love reviewing them as well. Every month I post about 3 YA books that I've read each month in a new genre. I also send out quarterly posts marked UPDATES regarding news about my own work.
But for those of you who have kids, or grandkids, or you yourself like teen books (like me!), each month, I'll introduce some of my favorite Christian and Catholic YA books.
I've decided to provide more reviews because there are a few things I've learned since I had my first book published:
1 – So many of the teen books published by the big publishing companies contain messages that don't match the values of many families.
2 – There are a lot of fantastic, clean, faith-based books out there – books that are entertaining yet wholesome and reflect Christian values.
3 – These types of books can be difficult to find. So, I'd like to introduce you to a few new adventures.
Signs in the Dark by Susan Miura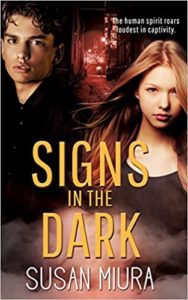 Looking for a fantastic book to read? Look no further than Susan Miura's Signs in the Dark. This book is such a treat and makes the perfect fictional escape. This book is actually an updated version of one of my favorites books I reviewed last year, Show Me A Sign. The author has added some great new elements that make this book worth sharing again.
High school student Nathan has finally worked up the courage to ask out the girl he likes. Haylie is beautiful, smart, sweet, and happens to be deaf. But when the object of Nathan's affection is kidnapped, Nathan finds himself being interrogated by the FBI. He immediately jumps headfirst into trying to clear his name and find out what happened to Haylie. Nathan pursues his investigation the only way an infatuated high school boy could—rather recklessly.
All the characters in this book are fantastic. From supporting characters like the busy-body neighbor, the tough as nails FBI agent, and the derelict father, to the three teenagers that really power this novel, each comes to life with their unique personalities. The hopeful hero, Nathan, is a quick-witted joy. His internal musings are fabulous and make him one of my favorite YA characters of all-time. The interactions with Nathan and his elderly neighbor are hysterical, and the light-hearted back and forth between him and his best friend—perfection. The characters of Haylie and Alec are extremely well developed. The passages about their scars from the past and what makes them tick are quite touching.
Susan Miura is an exceptional author who creates intriguing characters from different backgrounds and ethnicities in all her books. She also does a phenomenal job of introducing readers to unique topics through her engaging stories. For instance, this book touches on human trafficking, wildlife conservation, hearing impairment, abandonment, and overcoming pains from the past. I've thoroughly enjoyed all of her YA books, but Signs in the Dark is my favorite Susan Miura novel yet.
A Tragic Introduction Scott McCully Espionage Adventure by Jessica C. Joiner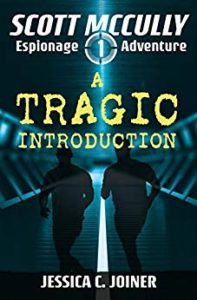 This is a fun adventure for teens. Scott McCully is a high school student at a military academy. When his parents don't show up for his football game, he discovers that things are not what they seem.
This is the first book in a series about Scott and is perfect for all those kids who would love to become a secret agent themselves. Even though this is a YA book and the main characters are high school students, sometimes I felt, through the dialogue and storyline, that this was more of a middle-grade story. It was a little far-fetched and unbelievable but made for a fun adventure.
I especially enjoyed that Scott and his friend Matt were strong Christians. The author did a nice job in making their faith a natural part of the story. Their beliefs were not over the top or forced on anyone, but it showed that those values made these young men the good guys that they are.
Always Watching (The Rayne Tour #1) by Brandilyn and Amberly Collins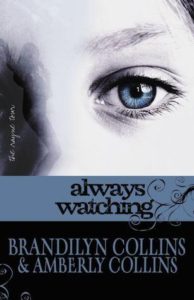 This is a fantastic suspenseful murder mystery. First of all, I love the concept behind this book. It is written by a mother and daughter author team. My own daughter is a fantastic writer, and I can't help but think how much fun it would be to write a book together. (Of course, this idea probably appeals to me much more than it would to her!)
The book is also about a mother-daughter team. Shaley and her mother, Rayne, do not live an ordinary life. Mom Rayne is a rock star, and their life revolves around fame, concerts, touring, and paparazzi.  On the band's latest tour, a member of their team, and someone Shaley is very close to, is murdered. But things get even worse when it appears to be an inside job. Could one of the band or crew really be the murderer?
This book is such a fast-paced page-turner. I whipped through the story, compelled to finding out what would happen next. While it is a murder mystery, and there is a little gore, it is not over the top. The rock star aspect will be interesting to teens. I really liked how the authors included faith in the story. When Shaley is scared and not sure who she can trust, someone shares with her that God is there for her, always watching.
All these books can be found on Amazon. I've set links – just click on the highlighted titles. For those who don't use Amazon you can also check Barnes and Noble online or www.indiebound.org where you can search for books and the local bookstores that might carry them or order them directly from the website. You can also ask your local bookstore or library to order the books for you.
Next month I'll be reviewing three more Christian/Catholic teen novels. But if you'd like more reviews before then you can always check out my recommendation section on my website: YA Recommendations.
If you've come across this post on Facebook and would like to get my monthly reviews sent directly to your inbox, you can sign up on my website – www.LesleaWahl.com.
Until next month – Happy Reading!