Welcome to my monthly book review! A FREE short story, monthly book reviews, and quarterly updates can be sent directly to your inbox if you sign up for my newsletter. Don't miss a single review!
This month I am reviewing something I am not too familiar with—Graphic Novels and Comic Books! If you have a reluctant reader, this popular format might be of interest to you. Two of these books are about saints, some well-known, some I'd never heard of before. One book is more of an exploration of the Catholic faith. All three offer incredible illustrations and fast-paced stories to introduce some amazing people and deep concepts to your family.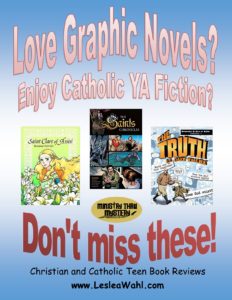 Before we begin…
In case you are new to my blog, besides writing YA novels, I love reviewing them as well. Every month I post about 3 YA books that I've read each month in a new genre. I also send out quarterly posts marked UPDATES regarding news about my own work.
But for those of you who have kids, or grandkids, or you yourself like teen books (like me!), each month, I'll introduce some of my favorite Christian and Catholic YA books.
I've decided to provide more reviews because there are a few things I've learned since I had my first book published:
1 – So many of the teen books published by the big publishing companies contain messages that don't match the values of many families.
2 – There are a lot of fantastic, clean, faith-based books out there – books that are entertaining yet wholesome and reflect Christian values.
3 – These types of books can be difficult to find. So, I'd like to introduce you to a few new adventures.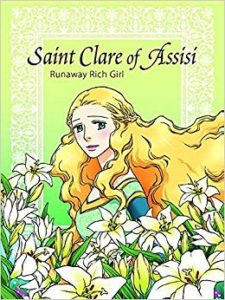 Saint Clare of Assisi: Runaway Rich Girl by Kim Hee-ju
This graphic novel portrays the story of Saint Clare of Assisi. Saint Clare was born to a wealthy family and was expected to marry someone of her father's choosing. But Clare chooses a different path for her life when she becomes intrigued by the strange ways of a man from her village—Saint Francis of Assisi. Clare is so moved by Frances' faith, his commitment to caring for others, and his dedication to living a life of poverty that she decides to follow his path. Clare gives up all her earthly possessions so she can follow Christ's example and live simply. This may be a quick read, but I learned a lot about Saint Clare, her order of sisters, and Saint Francis. Her story is a beautiful example of following God's will.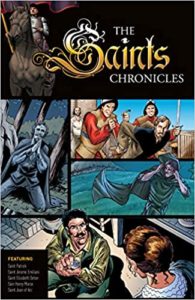 This graphic novel/comic book is a wonderful way to introduce teens to several saints they might not know much about. The stories are quick, easy to follow, and highlight the amazing faith of these five individuals: St. Patrick, St. Jerome Emiliani, St. Elizabeth Ann Seton, St. Henry Morse, and St. Joan of Arc.
I knew a little about some of these incredible people and others I'd never heard of, but I definitely learned a lot about each of them. This is the first in a series by Sophia Institute Press. Sometimes reading a whole book on a saint or historical figure can be a little overwhelming for teens, so these comic books are a fantastic way for to discover some fascinating people and learn about their deep faith.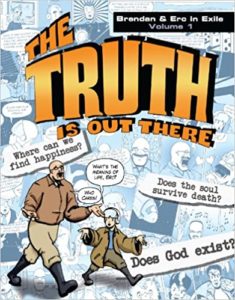 Brendan & Erc in Exile: The Truth is Out There by Amadeus
This book was such an unexpected surprise. I had no idea what to expect from an apologetic comic book. What does that even mean? But this is a gem for those teens, or even adults, who like philosophical debates. Brendan and Erc in Exile, written by a self-described contemplative priest, is unique and a clever way to share some truths of the faith.
Brendan and Erc are interplanetary mailmen. These co-workers begin a journey of philosophical and theological questions about the meaning of life. The different people these friends encounter as they travel through the galaxy, help them to uncover truths of the faith.
This is such a fun, yet deeply informative book. The unique format makes the deep topics completely understandable. I'm curious about Brendan and Erc's next adventure.
All these books can be found on Amazon. I've set links – just click on the highlighted titles. For those who don't use Amazon you can also check Barnes and Noble online or www.indiebound.org where you can search for books and the local bookstores that might carry them or order them directly from the website. You can also ask your local bookstore or library to order the books for you.
Next month I'll be reviewing three more Christian/Catholic teen novels. But if you'd like more reviews before then you can always check out my recommendation section on my website: YA Recommendations.
If you've come across this post on Facebook and would like to get my monthly reviews sent directly to your inbox, you can sign up on my website – www.LesleaWahl.com.
Until next month – Happy Reading!