Monthly Book Reviews – Mysteries
Welcome to my monthly book review! A FREE short story, monthly book reviews, and quarterly updates can be sent directly to your inbox if you sign up for my newsletter. Don't miss a single review!
This month I am sharing Christmas books for the whole family! If you're anything like me, you enjoy reading Christmas stories throughout the month of December. Besides the one book I read every single year, I enjoy discovering new holiday treasures. So, this review offers choices for everyone in the family— picture books, chapter books, teen novels and even some stories the adults will enjoy as well.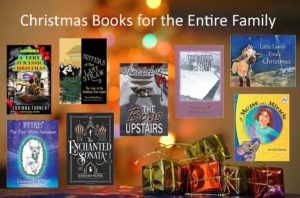 Before we begin…
In case you are new to my blog, besides writing YA novels, I love reviewing them as well. Every month I post about 3 YA books that I've read each month in a new genre. I also send out quarterly posts marked UPDATES regarding news about my own work.
But for those of you who have kids, or grandkids, or you yourself like teen books (like me!), each month, I'll introduce some of my favorite Christian and Catholic YA books.
I've decided to provide more reviews because there are a few things I've learned since I had my first book published:
1 – So many of the teen books published by the big publishing companies contain messages that don't match the values of many families.
2 – There are a lot of fantastic, clean, faith-based books out there – books that are entertaining yet wholesome and reflect Christian values.
3 – These types of books can be difficult to find. So, I'd like to introduce you to a few new adventures.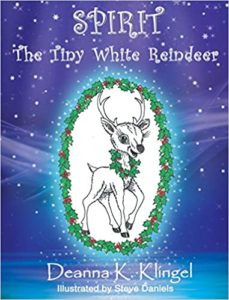 Spirit the Tiny White Reindeer by Deanna Klingel
This is an adorably sweet picture book that highlights the spirit of Christmas. The beautifully illustrated story is a wonderful way to explain the virtues of grace, peace, and charity to your little ones. When an unusual little reindeer arrives at Santa's workshop, the others are not accepting at first, but when they open their hearts and give her a chance, they all learn an important lesson of kindness and charity. Deanna Klingel always brings beautiful messages of faith and friendship to her books, whether in her picture books, her middle-grade adventures, or her teen novels.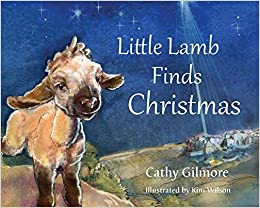 Little Lamb Finds Christmas by Cathy Gilmore
Little Lamb Finds Christmas is a precious picture book about the Nativity. Children will love seeing the birth of Christ from the point of view of a sweet little lamb. Lemi the lamb has a habit of getting lost. One night he and his shepherd boy share an extraordinary experience when a bright star leads them to the town of Bethlehem. The illustrations added a delightful touch to this sweet story.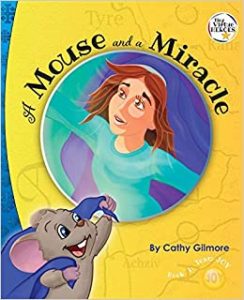 A Mouse and a Miracle by Cathy Gilmore
This heartwarming picture book tells the story of Mary's incredible calling to become the mother of our Savior, from the perspective of a tiny mouse named Moshe. This engaging story will delight youngsters while teaching them about the amazing faith of Mary. The illustrations by Jeanie Egolf are absolutely beautiful. This one is sure to become a family treasure!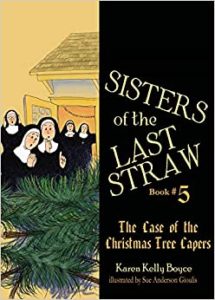 Sisters of the Last Straw: The Christmas Tree Caper by Karen Kelly Boyce
This fun chapter book is part of a series that follows a group of women who long to be nuns but, for various reasons, have not been asked to join other convents. So, these delightful misfits have created their own order—the Sisters of the Last Straw. In this Christmas caper, the Sisters decide to sell Christmas trees in order to raise money so they can purchase gifts for needy children. The story is full of mishaps that will leave your children giggling and wanting more of the Sisters' adventures.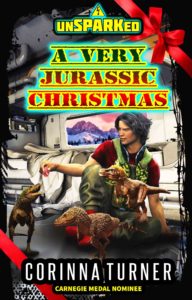 A Very Jurassic Christmas by Corinna Turner
Corinna Turner's unSPARKed series continues with this newest Christmas installment. In case you are unfamiliar, this collection of short stories is set in a dystopian world where dinosaurs once again roam the earth. These unique installments are filled with adventure and Catholic faith. The first part of this tale was first published last Christmas in the Gifts: Visible & Invisible anthology brought to you by CatholicTeenBooks.com. This longer edition continues the parallel stories of dino-hunter Joshua and farmgirl Darryl. Joshua's Christmas plans have been altered when he and his uncle take on the dangerous rescue of a large dino mama and her chicks. Darryl learns a lesson of patience and humility when her Christmas plans also go awry. But when you live in a dino-world, you must always expect the unexpected.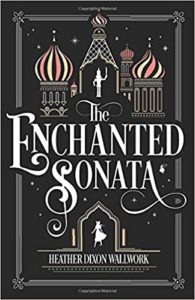 The Enchanted Sonata by Heather Dixon Wallwork
This teen novel adds a new twist to the classic story, The Nutcracker. Attending the Nutcracker ballet is a holiday tradition in my family, so I was immediately drawn to this book. The author did a wonderful job of using enough elements of the well-known story to satisfy the needs of those who are familiar with Clara and the Nutcracker Prince but adds enough new aspects and twists to keep the reader guessing and engaged. Faith does not play a large role in this fantasy, but there are a few moments of prayer included. This is a different type of Christmas novel, but I found it an enjoyable break from reality and thoroughly enchanting.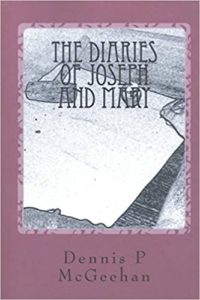 The Diaries of Joseph and Mary by Dennis McGeehan
Looking for a book the whole family can read together? This novel is a fictional yet possible, unique look into the lives of Joseph and Mary. The story consists of diary entries beginning when they were children and ends right before Jesus' public ministry. The author uses his imagination but also Catholic tradition and historical facts to create this fascinating story. This book provides a look into that period of history, making you ponder what life must have been like for these two faithful servants.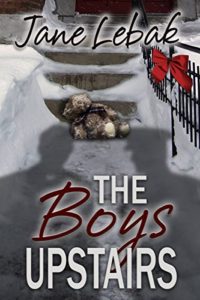 The Boys Upstairs by Jane Lebak
The Boys Upstairs is the story of two estranged brothers and the three children they are trying to help during Christmas. While not a long book, there is a lot going on through the story. The relationship between these grown brothers and their background was quite moving. As youngsters, the brothers were constantly in trouble but were able to turn their lives around. Kevin became a police officer, and Jay went into the military. After Jay suffered a devasting injury, his life changed in many ways including a calling to the priesthood and a fracture in his relationship with Kevin. One Christmas, these estranged brothers are drawn together when Kevin must find a temporary shelter for three runaway children. The only option is to turn to his brother Jay who has been housing homeless boys in the rectory.
The author does an amazing job of creating characters with a lot of depth. The tenuous relationship between these brothers is told amid a cast of supporting characters that all have touching stories. This book is a wonderful reminder to appreciate all our blessings, which is always a great lesson but especially at Christmas. Teens and adults alike will enjoy this one.
All these books can be found on Amazon. I've set links – just click on the highlighted titles. For those who don't use Amazon you can also check Barnes and Noble online or www.indiebound.org where you can search for books and the local bookstores that might carry them or order them directly from the website. You can also ask your local bookstore or library to order the books for you.
Next month I'll be reviewing three more Christian/Catholic teen novels. But if you'd like more reviews before then you can always check out my recommendation section on my website: YA Recommendations.
If you've come across this post on Facebook and would like to get my monthly reviews sent directly to your inbox, you can sign up on my website – www.LesleaWahl.com.
Until next month – Happy Reading!