Welcome to my monthly book review! Besides writing my own YA novels, I love to review them as well.
This month's books are aimed for older teen girls. The main characters in each of these books are a little older, and some of the subject matter might be more appropriate for older teens. One is a beautiful historical romance, one focuses on the dangerous illusion of fame, and one is a thoroughly enjoyable pro-life story.
Before we begin…
In case you are new to my blog… every month I post about 3 YA books that I've read, each month in a new genre. So, if you're not interested in other teen books you can skip past this Book Review Post. I'll still be sending out quarterly posts marked UPDATES regarding news about my own work.
But for those of you who have kids, or grandkids, or you yourself like teen books (like me!), each month I'll introduce some of my favorite Christian and Catholic YA books.
I've decided to provide more reviews because there are a few things I've learned since I had my first book published:
1 – So many of the teen books published by the big publishing companies contain messages that don't match the values of many families.
2 – There are a lot of fantastic, clean, faith-based books out there. Books that are entertaining yet wholesome and reflect Christian values.
3 – These types of books can be really hard to find. So, I'd like to introduce you to a few new adventures.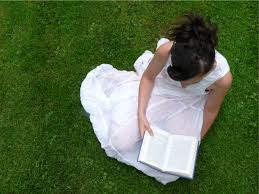 Books for Older Teen Girls
Sydney and Calvin Have a Baby by Adrienne Thorne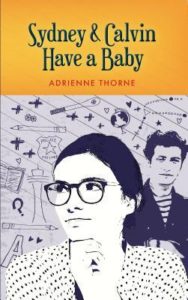 I wasn't sure what to expect from this story. This book is listed as a YA novel, but the subject matter might make some readers a little hesitant. I mean, high school students having a baby is not something you expect to find in Christian teen fiction. But this book surprised me. It was such a delight.
The basic premise of the story is traumatic and horrible – a teenage girl, who is a bit of a nerd and doesn't really fit in with the popular crowd, is date raped which results in a pregnancy. Her attacker, who had been drinking, dies in an accident right after the incident. Don't worry, I'm not giving anything away, this information is printed on the back of the book. (I should note, there are no graphic scenes at all.)
Knowing all that, you might think "delight" would not really be an appropriate word to describe this novel. But the book is written from the perspective of a teen boy named Calvin. This book has a bit of an unusual style, and might not be for everyone, but it completely worked for me. Calvin's voice was so wonderful. This teen boy is from England, and his dry, clever comments reminded me of the charm of many of actor Hugh Grant's characters. I loved the British-isms throughout the book. Through Calvin's voice, this difficult story is filled with a clever sense of humor and beautiful heartfelt messages.
Poor Calvin has his own tragedy to work through, and my heart broke for this fictional teen boy. Somehow Sydney and Calvin's traumatic tales turn into a beautiful story with powerful messages. There are some wonderful topics for older teens to explore, the dangers of drinking and driving, the sanctity of life, the hurtfulness of lying and gossiping, and standing up for what is right.
It was so sad, but probably accurate, on how many people thought Sydney would be able to go back to her life by getting rid of the problem. And I was a bit horrified that a character, who should have known better, was willing to help Sydney resolve the issue without her parent's permission. Again, this might be rather accurate, but was shocking to me. I happened to finish reading this book on the same day that hundreds of thousands of people marched in DC for the Right for Life, the timing was quite fitting. The messages in this story, that babies are a precious gift, that good things can come out of tragedies, and that faith is our stronghold, are so important and sadly are not heard often enough in our society.
A Love Such as Heaven Intended by Amanda Lauer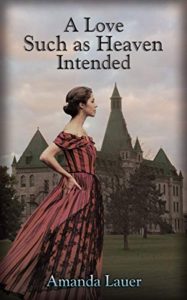 This is the third book in Lauer's Heaven Intended series. Due to the number of books I read for reviews, I'm often not able to read all the novels in a series, no matter how much I enjoy them. But I have read all the books in this particular series, and I adore them all.
The Heaven Intended books are all set during the Civil War. Each book is a love story that unfolds amid the horrors of the war. Each book highlights interesting aspects of the war and explores the complexities of both sides of that dark part of our history. My favorite part of the series is how the storylines of these novels all intertwine, and the endings all happen at the same moment in time. You don't need to have read the other stories to enjoy this latest release, but after reading the last chapter, I have a feeling you'll want to read the other two books as well.
A Love Such as Heaven Intended is a sweeping adventure about a love so great that even a civil war can't stop it from happening. Josephine is a spoiled, self-absorbed daughter of a Brigadier General who lives a pampered life in Washington DC. Michael is a handsome West Point graduate, a friend of Josephine's brother, and a Confederate soldier with some complicated secrets. A chance encounter draws them together, but circumstances beyond their control threaten to end things before any relationship can even begin. However, Josephine is determined to get the man of her dreams despite the circumstances stacked against them. I absolutely adored the character of Josephine. While she was spoiled and privileged, she had a beautiful, giving heart. Her feistiness was so much fun.
I also really enjoyed the historical elements that the author includes in all her novels. Lauer has a knack for bringing history alive through these exciting, adventurous romances. Creating such a story set during one of the most difficult times in our history cannot be an easy thing to accomplish. The author weaves many factual items about the war and the era into the story. For instance, she mentions Josephine had seen a play that featured actor John Wilkes Booth. Josephine also discusses the "new" books that she had recently read, which are now classic pieces of literature. These added elements really brought the time period to life. Because of these historical parts, I think this book would be a fantastic supplement to lessons on the Civil War and would make for some interesting discussions.
Grace Unplugged by Melody Carlson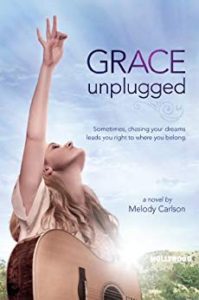 The concept of this book is unique. You may remember Grace Unplugged as a recent movie by the same name. Typically, the book comes first, then the movie. In this case, the movie was created first, and the author was then approached and asked to write the book. I thought Melody Carlson did a great job of keeping to the movie, but making it a great book as well. I'm sure it was difficult not being able to create her own unique twist on the story but stay true to the movie.
The story is about teenager Grace Trey, who dreams of making it big in the music industry. Her father was a one-hit-wonder years ago, but left the destructive rocker life he found himself involved in and turned his life around. He now is a worship leader at a church in the south. Trying to keep his daughter safe and her values intact, he becomes a little controlling – in her eyes anyway.
When Grace finds her opportunity to make it big, she jumps at it, leaving behind her family, her church, her friends, and heads to LA. Grace must decide who she is, what her beliefs are, and who she wants to be. This is a good, coming of age story that points out the destructive side of Hollywood. Teens often see fame as appealing and glamourous. This book does a nice job of showing the ugly side.
Overall, it is clean, but there are some scenes of underage drinking, binge drinking, and dating "expectations" that make it more appropriate for older teens.
All these books can be found on Amazon. I've set links – just click on the highlighted titles. For those who don't use Amazon you can also check Barnes and Noble online or www.indiebound.org where you can search for books and the local bookstores that might carry them or order them directly from the website. You can also ask your local bookstore or library to order the books for you.
Next month I'll be reviewing three more Christian/Catholic teen novels. But if you'd like more reviews before then you can always check out my recommendation section on my website: YA Recommendations.
If you've come across this post on Facebook and would like to get my monthly reviews sent directly to your inbox, you can sign up on my website – www.LesleaWahl.com.
Until next month – Happy Reading!