Welcome to my monthly book review post!
In case you are new to my blog… every month I post about 3 YA books that I've read, each month in a new genre. So, if you're not interested in other teen books you can skip past this Book Review Post. I'll still be sending out quarterly posts marked UPDATES regarding news about my own work.
But for those of you who have kids, or grand-kids, or you yourself like teen books (like me!), each month I'll introduce some of my favorite Christian and Catholic YA books.
I've decided to provide more reviews because there are a few things I've learned since I had my first book published:
1 – So many of the teen books published by the big publishing companies contain messages that don't match the values of many families.
2 – There are a lot of fantastic, clean, faith based books out there. Books that are entertaining yet wholesome and reflect Christian values.
3 – These types of books can be really hard to find. So, I'd like to introduce you to a few new adventures.
June Book Reviews – Adventure
June – the beginning of summer – a perfect time for a little adventure!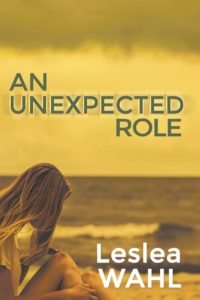 This is one of my books. Now, I may be a little biased, but this YA novel really is a perfect summer adventure. Set on a South Carolina Island, this book contains all the elements I love in a story – mystery, adventure, humor, innocent romance, and a touch of faith.
This story holds a special place in my heart. There is just something about these characters that make them extra special to me. When I was writing my first novel, The Perfect Blindside, in order to make my teen characters believable I spent a lot of time listening to and observing my own kids. While I was taking notes of certain teen phrases that I liked, I thought about what would happen if an author wrote too much about her kids and it ended up causing trouble for them. This was the idea that eventually turned into An Unexpected Role. Poor Josie's life is turned upside down when her mom's new novel causes turmoil in her life. This book is also about discovering who God wants you to be.
McCracken and the Lost Island by Mark Adderley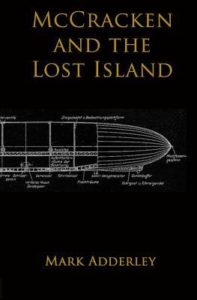 This is the first book in the McCracken series by Mark Adderley. I've heard this series described as "Indiana Jones with a rosary" and that is a great description. This delightful book is perfect for middle school and high school boys who love adventurous novels. It is set in the 1930's with an interesting group of international characters including the English engineer/inventor McCracken, the lovely Ariadne – a communications expert with an interesting past relationship with McCracken, a French deep sea diver, a Russian pilot and a rich German Baron who gathers them all for an adventure to find a lost island. I thoroughly enjoyed the exciting plot which reminded me of the movie version of "Journey to the Center of the Earth". McCracken's strong faith and engineering genius makes this character a fantastic role model for teens.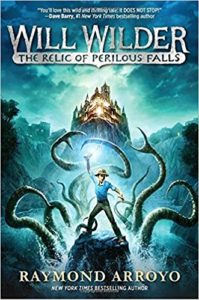 The Relic of Perilous Falls by Raymond Arroyo
If your child likes the Percy Jackson series, they'll probably enjoy Raymond Arroyo's action-packed Will Wilder books. The Relic of Perilous Falls is the first book in this series about Will Wilder, a young boy with unique gifts. Will doesn't realize he has special powers but when he accidently unleashes some demons in his hometown during a birthday party, he learns that there is a secret society of believers that all have special powers to keep people safe from the dark side.
There are many unique characters in this book that add a fun element – Will's Aunt, friends, siblings and parents all help to make this story fast moving and enjoyable.
All these books can be found on Amazon. I've set links – just click on the highlighted titles. For those who don't use Amazon you can also check Barnes and Noble online or www.indiebound.org where you can search for books and the local bookstores that might carry them or order them directly from the website. You can also ask your local bookstore or library to order the books for you.
Next month I'll be reviewing three more Christian/Catholic teen novels. But if you'd like more reviews before then you can always check out my recommendation section on my website: YA Recommendations.
If you've come across this post on Facebook and would like to get my monthly reviews sent directly to your inbox, you can sign up on my website – www.LesleaWahl.com.
Until next month – Happy Reading!