This month's genre is Fantasy. I'll admit, fantasy novels were never the ones I was drawn to, but I have come to appreciate and really enjoy this genre. I'm especially impressed with the authors and their wild imaginations that can create such unique stories and worlds. This month I'm featuring three books that completely swept me away. They are about Christian characters that find themselves in unusual circumstances. One is a contemporary story set in Paris. One is a unique retelling of a Biblical story. And one is reminiscent of a classic C.S. Lewis novel. If you're looking for an exciting book to take you on unexpected journeys, these books are worth checking out.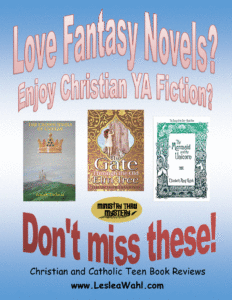 Before we begin…
In case you are new to my blog, besides writing YA novels, I love reviewing them as well. Every month I post about 3 YA books that I've read each month in a new genre. I also send out quarterly posts marked UPDATES regarding news about my own work.
But for those of you who have kids, or grandkids, or you yourself like teen books (like me!), each month, I'll introduce some of my favorite Christian and Catholic YA books.
I've decided to provide more reviews because there are a few things I've learned since I had my first book published:
1 – So many of the teen books published by the big publishing companies contain messages that don't match the values of many families.
2 – There are a lot of fantastic, clean, faith-based books out there – books that are entertaining yet wholesome and reflect Christian values.
3 – These types of books can be difficult to find. So, I'd like to introduce you to a few new adventures.
The Gate Through the Old Elm Tree by Elizabeth Pietrantonio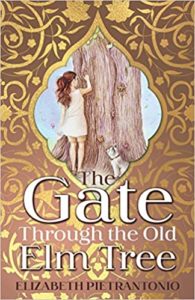 This novel is a retelling of one of my favorite books in the Bible—Esther. In recent years, I've been drawn to Esther 4:14 "Perhaps you were born for such a time as this."  What an powerful idea to contemplate. In fact, when difficult times arise, I often think of this verse. It somehow gives me comfort and fills me with determination.
In this book, Esther is a modern-day teen who finds herself magically transported, along with her dog, to ancient Persia. Almost immediately, she is taken hostage as a potential bride for King Xerxes. As Esther prepares to meet the King, it becomes apparent that she has an incredible opportunity to save the Jews from the evil advisor Haman. Her faith, along with several new friends (including some talking animals), help her with this mission.
I really enjoyed this story. Imagining yourself in a Biblical story can be a great way to understand the passages a little better and make it relevant to your life. This entertaining book provides a lot of fantastic issues to contemplate. For instance, have you ever thought that maybe God chose you to live in this particular time period? Are you being called to right any wrongs? Do you have the courage to take a stand? The modern-day twist was an intriguing way to bring this amazing story about a courageous young woman to today's youth.
The Crown Jewels of Undlar by Roger Thomas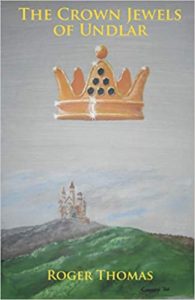 This story about six siblings who find themselves in a strange new land was very reminiscent of The Lion, The Witch, and The Wardrobe. I have read a few books by Roger Thomas and have been impressed with each one. His books are all unique—this one for the younger crowd is fantastic.
When Angela's parents put her in charge of her siblings for an afternoon, she has no idea what's in store. The mundane task quickly spirals out of control as her siblings begin bickering with one another. In an attempt to calm things, she brings them together to pray. Their prayer for an adventure becomes something they never expected—saving another world.
When the siblings awake from an unexpected slumber, they find themselves in a strange world where they are considered giants. They learn that this new place, Undlar, has been under attack. When the residents remember an ancient prophesy that spoke of giants who would save the citizens and find the six crown jewels, they, along with the animals of Undlar, look to the six children to save them.
This was an exciting, faith-based adventure. I especially loved how each child, even the youngest siblings, had an opportunity to discover one of the jewels using their own unique talents. This book is full of wonderful messages of working together, developing friendships, trusting one another, and the power of prayer—all combined together for a delightful tale.
The Mermaid and the Unicorn by Elizabeth Amy Hajek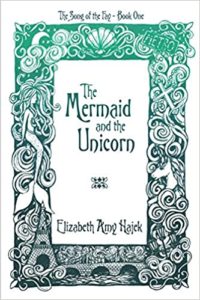 Daphne is thrilled for the opportunity to study abroad in Paris. After being homeschooled most of her life, this young college student is eager to spread her wings. A semester of classes while boarding at a convent with a small group of students and teachers sounds like the perfect opportunity. But her time in the City of Lights turns into more than expected when Daphne makes the shocking discovery that some fairytale creatures may actually be real.
This was an enjoyable, clean fantasy novel for teens. The author's vivid imagination combined faith, relationships, and mystical creatures into a sweet romantic adventure. The descriptions of Paris were lovely, Daphne's love interest was honorable, and the questions about vocation were quite compelling. I especially appreciated how devoted many of the characters were to their faith.
If you like your fantasy intermixed with a contemporary story, then this sweet book might be a great choice for you.
All these books can be found on Amazon. I've set links – just click on the highlighted titles. For those who don't use Amazon you can also check Barnes and Noble online or www.indiebound.org where you can search for books and the local bookstores that might carry them or order them directly from the website. You can also ask your local bookstore or library to order the books for you.
Next month I'll be reviewing three more Christian/Catholic teen novels. But if you'd like more reviews before then you can always check out my recommendation section on my website: YA Recommendations.
If you've come across this post on Facebook and would like to get my monthly reviews sent directly to your inbox, you can sign up on my website – www.LesleaWahl.com.
Until next month – Happy Reading!