In case you are new to my blog… every month I post about 3 YA books that I've read, each month in a new genre. So, if you're not interested in other teen books you can skip past this Book Review Post. I'll still be sending out quarterly posts marked UPDATES regarding news about my own work.
But for those of you who have kids, or grand-kids, or you yourself like teen books (like me!), each month I'll introduce some of my favorite Christian and Catholic YA books.
I've decided to provide more reviews because there are a few things I've learned since I had my first book published:
1 – So many of the teen books published by the big publishing companies contain messages that don't match the values of many families.
2 – There are a lot of fantastic, clean, faith-based books out there. Books that are entertaining yet wholesome and reflect Christian values.
3 – These types of books can be really hard to find. So, I'd like to introduce you to a few new adventures.

This month's book review genre is Middle Grade Books. Let's face it, those middle school years are tough. This stage of life can be difficult as young people are trying to figure out just who they are while dealing with more complex issues, tougher school work, more responsibility, and hormones!
7 Riddles to Nowhere by A.J. Cattapan
Seven Riddles to Nowhere is a wonderfully charming book, perfect for older elementary students and middle schoolers or for anyone who enjoys a beautifully written, hard-to-put-down story. The main character, Kam, who suffers from selective mutism, finds himself on a mission to save his beloved Catholic school from closing. This goal leads him on an adventure through Chicago deciphering riddles at beautiful churches, while avoiding the school's bully along the way.
The characters of Kam and his supportive friends are so enjoyable that I couldn't help but root for them as they made their way from church to church. Cattapan did an amazing job of not only bringing her characters to life but also describing Chicago in a way that the city practically became another character in the book. I also loved the element of the faith based riddles the kids had to solve.
This is a fantastic story of self-sacrifice, for the good of others, that delivers a beautiful message – kids can make a difference.
8 Notes to a Nobody by Cynthia T. Toney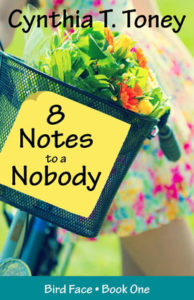 This is the first book in Cynthia T. Toney's Birdface series which follows Wendy, a young Louisiana teen, through her 8th grade year and into high school. 8 Notes to a Nobody is a beautiful and impactful novel about the difficulties of the middle school years. This story deals honestly with many tough subjects such as low self-esteem, depression and other serious issues. Toney does an incredible job of tackling these hard topics in a hopeful and empowering way.
I love how the main character finds the strength to take charge and change things for herself by following her 5 step plan to making friends. This is such a great, proactive idea that all teens could try. It was wonderful to see how things changed for her over the summer as she prepared for high school. Kids at this age often can't see past their problems so I thought the message that even though heartache and tragedies occurred, things could change and get better was very powerful and positive. This is a great book for any middle school student.
 a.k.a. Genius by Marilee Haynes
What a delightful middle grade book about finding yourself and fitting in. The story follows Gabe, a middle school student – smack dab in the middle of those difficult awkward years. Oh, and he just found out he's a genius.
I've never read the Diary of a Wimpy Kid books but this novel reminded me of the movies. A young boy making his way through the difficult years of middle school, in a humorous story with colorful characters. I was about halfway through the book when I was out of town and unable to read for a few days but I couldn't get Gabe, his friends and their predicaments out of my mind.
Haynes is a fabulous writer who expertly captures Gabe's voice. Though this book is fun it also has some powerful moments and inspiring messages. Warning: you many need to keep some tissues nearby to wipe away the tears of laughter and sadness.
All these books can be found on Amazon. I've set links – just click on the highlighted titles. For those who don't use Amazon you can also check Barnes and Noble online or www.indiebound.org where you can search for books and the local bookstores that might carry them or order them directly from the website. You can also ask your local bookstore or library to order the books for you.
Next month I'll be reviewing three more Christian/Catholic teen novels. But if you'd like more reviews before then you can always check out my recommendation section on my website: YA Recommendations.
If you've come across this post on Facebook and would like to get my monthly reviews sent directly to your inbox, you can sign up on my website – www.LesleaWahl.com.
Until next month – Happy Reading!