July is a great time for exploration and adventure. So that is what this month's selection of books revolves around – adventures. My three recommendations vary in age-appropriateness, so there should be something for each teen member of the family to enjoy.
Before we begin…
In case you are new to my blog… every month I post about 3 YA books that I've read, each month in a new genre. So, if you're not interested in other teen books you can skip past this Book Review Post. I'll still be sending out quarterly posts marked UPDATES regarding news about my own work.
But for those of you who have kids, or grandkids, or you yourself like teen books (like me!), each month I'll introduce some of my favorite Christian and Catholic YA books.
I've decided to provide more reviews because there are a few things I've learned since I had my first book published:
1 – So many of the teen books published by the big publishing companies contain messages that don't match the values of many families.
2 – There are a lot of fantastic, clean, faith-based books out there. Books that are entertaining yet wholesome and reflect Christian values.
3 – These types of books can be really hard to find. So, I'd like to introduce you to a few new adventures.
Riddle at the Rodeo (A Camarata Cousins Mystery) by Claudia McAdam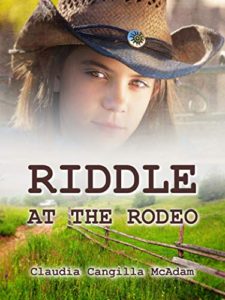 Riddle at the Rodeo is a delightful middle-grade mystery – a Catholic Nancy Drew. This book is the kind of Christian book that I love, where the character's faith comes out in a completely natural way. I always think these types of "Catholic-light" books are extremely important because they portray the characters as just regular kids, and that faith can be a natural part of their lives. This is a great message for our children to see represented in their entertainment.
In Riddle at the Rodeo, while the main character, Kirsten, is on vacation with her cousins, she is asked to help solve a mystery. The mystery is fun and intriguing, and the sections about the rodeo were quite interesting. I especially appreciated how this character was aware of her own bad behavior. When Kirsten feels bad about the white lies, she has told, and for the way she has treated her brother, she takes a detour during her sleuthing to go to confession. Though her sins were small, this is precisely the kinds of difficulties kids face every day. Having characters that portray a faith-based way to handle problems is such a fantastic example for kids. I look forward to more adventures with the Camarata Cousins.
Greyson Gray Camp Legend by B.C. Tweedt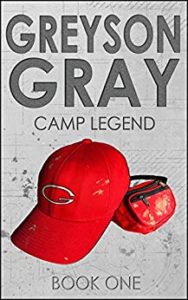 I've been curious about this book for quite a while. It is usually at the top of its Amazon categories and often beats out one of my own books, so I've wondered what all the fuss was about. I can understand why it is popular because there is a lot to enjoy about this book, but I also have a few concerns.
Greyson Gry Camp Legend is the first is a series of books about a middle school boy named Greyson Gray. Overall, this is a clean, middle-grade adventure. It is fun and fast-paced. I really enjoyed the character of Greyson and loved some of the supporting characters, especially fellow camper Jarryd and the boys' teen counselor Brandon. The author brilliantly captured the dialogue and friendly jabs of middle school boys.
So, what were my concerns? They aren't really concerns so much as observations. This book is listed as a Christian novel. It was a clean book and had Christian values throughout but didn't talk specifically about Christianity or mention bible verses. I don't remember the main character praying either. The violence in the book also bothered me a bit. Overall, there's not a lot of violence, and what is there is not gory. I just feel like the author's descriptions were a little too, well, descriptive. There were also some deaths which, in middle-grade novels, seemed a little surprising. This book is listed on Amazon for 9 -12-year-olds, I personally think it would be better for 7th and 8th graders. But it depends on what your children are exposed to, their maturity level, and the kind of books you are searching for. Overall, a very fun read.
Show Me A Sign by Susan Miura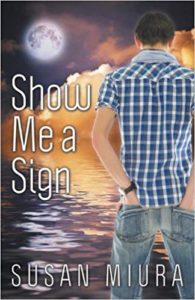 Looking for a fun mystery that is a quick read? Look no further than Susan Miura's Show Me A Sign. This story was such a treat. I've read one other book by this author, Healer, so knew she had a knack for writing from a teen perspective, but I was still surprised by how much I loved this main character's internal thoughts. Nathan is such a quick-witted joy. The interactions he had with his elderly neighbor were hysterical, and the back and forth between him and his best friend was perfection.
High school student Nathan has finally worked up the courage to ask out the girl he likes. Haylie is beautiful, smart, sweet, and happens to be deaf. But when the object of Nathan's affection is kidnapped, Nathan finds himself being interrogated by the FBI. He immediately jumps headfirst into trying to clear his name and find out what happened to Haylie. Nathan pursues his investigation the only way an infatuated high school boy could – rather recklessly. Besides being a fun story, there was a fantastic message as well. That life is unpredictable, you never know what could happen. If there is someone you feel you need to share your faith with – then don't wait, do it. Show Me A Sign is one of the most enjoyable books I've read so far this year.
All these books can be found on Amazon. I've set links – just click on the highlighted titles. For those who don't use Amazon you can also check Barnes and Noble online or www.indiebound.org where you can search for books and the local bookstores that might carry them or order them directly from the website. You can also ask your local bookstore or library to order the books for you.
Next month I'll be reviewing three more Christian/Catholic teen novels. But if you'd like more reviews before then you can always check out my recommendation section on my website: YA Recommendations.
If you've come across this post on Facebook and would like to get my monthly reviews sent directly to your inbox, you can sign up on my website – www.LesleaWahl.com.
Until next month – Happy Reading!