Yesterday was All Saints Day, which makes today's review post the perfect time to share a few stories about some incredible Saints. This month's selection includes a graphic novel about a modern-day Priest, an adventurous story about a little-known Saint with a famous name, and an older book about an incredible woman of faith. Each of these fabulous books is bound to inspire you to learn more about these faithful servants.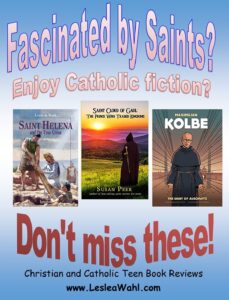 Before we begin…
In case you are new to my blog, besides writing YA novels, I love reviewing them as well. Every month I post about 3 YA books that I've read each month in a new genre. I also send out quarterly posts marked UPDATES regarding news about my own work.
But for those of you who have kids, or grandkids, or you yourself like teen books (like me!), each month, I'll introduce some of my favorite Christian and Catholic YA books.
I've decided to provide more reviews because there are a few things I've learned since I had my first book published:
1 – So many of the teen books published by the big publishing companies contain messages that don't match the values of many families.
2 – There are a lot of fantastic, clean, faith-based books out there – books that are entertaining yet wholesome and reflect Christian values.
3 – These types of books can be difficult to find. So, I'd like to introduce you to a few new adventures.
Saint Cloud of Gaul: The Prince Who Traded Kingdoms by Susan Peek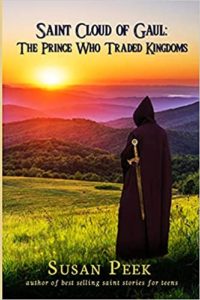 The Prince Who Traded Kingdoms is another masterpiece in Susan Peek's growing God's Forgotten Friends collection. The author's ability to bring to life the intriguing lives of little-known saints is an enormous blessing to our Catholic faith. This fascinating story about St. Cloud is her most heart-pounding story to date—truly a book that is impossible to put down.
Cloud was born a French prince, destined to rule his kingdom. However, when his cruel uncles change the course of events, he is forced to flee for his life. As he grows, he must decide where God is calling him to be. Is he meant for a solitary life of prayer or to become a just ruler who can lead his people in a new direction? Humor, adventure, unparalleled faith, and miraculous events keep the reader turning the pages as Cloud discovers his destiny.
I didn't know anything about this fascinating follower of Christ, but now I find him one of my saintly friends. Thank you, Susan Peek, for introducing these little-known saints to our generation. There is so much we can learn from the faithful servant of the past.
Maximilian Kolbe: The Saint of Auschwitz by Jean-Francois Vivier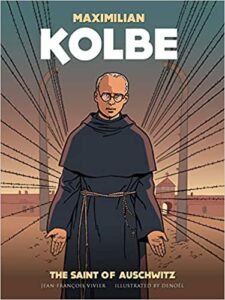 This graphic novel by Sophia Press is a fabulous look into the life of St. Maximilian Kolbe. I've enjoyed the entire collection of Saint graphic novels published by Sophia Press, but this one is my favorite. This book is a more in-depth endeavor, delving into the life of an incredible man. Maximilian Kolbe may best be known for his ultimate sacrifice while held prisoner at a Nazi concentration camp, but this faithful servant did so much for the Church during his life.
This comic-style book takes place during Kolbe's time at Auschwitz, letting readers experience a bit of the horrors and degradations perpetrated by the Nazis. Through Kolbe's discussions with his fellow prisoners, we learn about his life and amazing accomplishments. From starting the Militia Immaculatae, his years advancing Catholic publishing, to his missionary work in Asia, Kolbe's time on this earth, while cut much too short, touched so many as he lived his life for Christ.
Many of the Saints we read about lived centuries before us. While we can learn still learn so much from their fascinating stories, they can feel a bit removed from our lives. That's why I've always found the more modern Saints particularly intriguing. The idea that Saints are still living among us today is a fascinating thought. While the illustrations and text make this biography easy to follow, I especially appreciated the photographs included at the end of the book. The black and white images really added an extra element to this heart-breaking yet inspiring look into Maximilian Kolbe's life.
Saint Helena and the True Cross by Louis de Wohl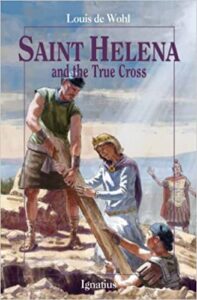 What a fantastic story about the lives of Saint Helena and her son Saint Constantine. While they are known as amazing early saints of the church, they weren't always believers of Christ. This older book tells the fascinating story of their lives during a very violent, pagan period when being a Christian could cost you your life. I knew just a little about Constantine and Helena, so I thoroughly enjoyed discovering more about this mother/son duo. While Constantine brought Christianity to the Roman Empire, Saint Helena brought many relics of Christ, including the cross on which he was crucified, from Jerusalem to Rome.
The author's descriptions brought the story to life. His portrayal of Helena as a strong, confident woman was wonderful. And Constantine's battles and epic journey across Europe were thrilling adventures. The details about Constantius, Helena's husband, and Constantine's father, really added a new layer of depth to their background. I always had a fondness for these two saints, but now, thanks to this book, they are two of my favorites.
All these books can be found on Amazon. I've set links – just click on the highlighted titles. For those who don't use Amazon you can also check Barnes and Noble online or www.indiebound.org where you can search for books and the local bookstores that might carry them or order them directly from the website. You can also ask your local bookstore or library to order the books for you.
Next month I'll be reviewing three more Christian/Catholic teen novels. But if you'd like more reviews before then you can always check out my recommendation section on my website: YA Recommendations.
If you've come across this post on Facebook and would like to get my monthly reviews sent directly to your inbox, you can sign up on my website – www.LesleaWahl.com.
Until next month – Happy Reading!