Monthly Book Reviews – Faithful Servants
This month I'm reviewing books about three individuals who are considered Saints by the Catholic Church or are on their way to sainthood. What better way to kickstart Lent than with some inspiring storis about faithful servants of God.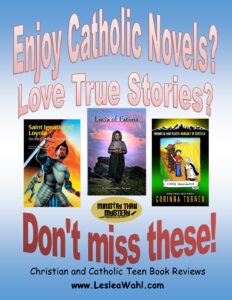 Before we begin…
In case you are new to my blog, besides writing YA novels, I love reviewing them as well. Every month I post about 3 YA books that I've read each month in a new genre. I also send out quarterly posts marked UPDATES regarding news about my own work.
But for those of you who have kids, or grandkids, or you yourself like teen books (like me!), each month, I'll introduce some of my favorite Christian and Catholic YA books.
I've decided to provide more reviews because there are a few things I've learned since I had my first book published:
1 – So many of the teen books published by the big publishing companies contain messages that don't match the values of many families.
2 – There are a lot of fantastic, clean, faith-based books out there – books that are entertaining yet wholesome and reflect Christian values.
3 – These types of books can be difficult to find. So, I'd like to introduce you to a few new adventures.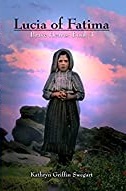 Lucia of Fatima by Kathryn Griffin Swegart
What an amazing story. I've enjoyed all of the books in Kathryn Griffin Swegart's Brave Hearts series, but this one is my favorite. These books about faithful servants of God are truly inspirational. I was familiar with Lucia and the incredible miracle that occurred at Fatima, but this book provided more details than I'd ever known before. Based on Lucia's memoirs, this story offers more insight into the Fatima events, as well as Lucia's life after the miracle. While this book is written as a middle-grade novel, I would recommend it for anyone interested in this incredible real-life story.
Through the beautiful writing, the reader feels like they know and understand Lucia. From the struggles she dealt with at home, to the sweet relationship she had with her cousins, and her unwavering devotion to her faith, Lucia was an inspiring woman. Thank you, Kathryn Griffin Swegart, for sharing this edifying story.
Child, Unwanted: Friends in High Places by Corinna Turner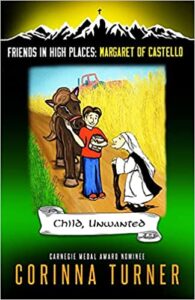 This is the third story in Corinna Turner's Friends in High Places series. This series of short stories introduces saints to readers through fictional tales about modern teens. Child Unwanted focuses on the life of Blessed Margaret of Castello. I had never heard of this faithful servant and her incredible life of hardship. The joy and faith that defined Margaret, despite the many difficult trials she endured, is truly inspiring.
Child Unwanted is all about not giving up and using your situation, no matter how painful, to pray for and bless others. This act of giving your pain up for others is a difficult concept to understand. This story about a boy name Miri, does an excellent job of explaining the process. I appreciated the pro-life aspect of the story as well as the cameo appearance of Daniel, a character found in each of the Friends in High Places books.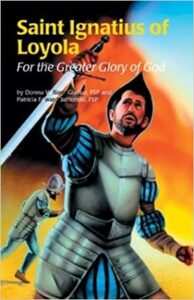 Saint Ignatius of Loyola: For the Greater Glory of God by Donna Giaimo, FSP and Patricia Jablonski, FSP
Having two children attend Jesuit high schools and colleges, I have long been curious about the founder of the Jesuits, Saint Ignatius of Loyola. In every classroom, the Jesuit phrase "Ad Majorem Dei Gloriam" was proudly displayed, and the AMDG symbol even graced their tennis and baseball uniforms. While I struggled at first to remember what the beautiful Latin words meant, I fully appreciated that my teens were constantly reminded to live their lives "For the Greater Glory of God." This Jesuit principle that our actions give glory to God, is the foundation of the Jesuit's incredible contribution over the centuries to education and missionary work around the world.
This book by Pauline Books and Media is relatively short but offers a wonderful depiction of this holy man's life. Inigo, who grew up in the early 1500s, came from a well-off family. As a boy, he longed for a life of adventure, defending his beloved country of Spain as a soldier. However, a serious battle injury changed this young man's life forever. During his long recovery, he was stuck with nothing to do but read. The only two books available to him were a book about the life of Christ and one about the lives of the saints. These books led him on an unusual journey of faith to change his name, give up his worldly possessions, and eventually become a priest who founded the Society of Jesus, also known as the Jesuits. I thoroughly enjoyed this introduction to the life of an incredible saint.
All these books can be found on Amazon. I've set links – just click on the highlighted titles. For those who don't use Amazon you can also check Barnes and Noble online or www.indiebound.org where you can search for books and the local bookstores that might carry them or order them directly from the website. You can also ask your local bookstore or library to order the books for you.
Next month I'll be reviewing three more Christian/Catholic teen novels. But if you'd like more reviews before then you can always check out my recommendation section on my website: YA Recommendations.
If you've come across this post on Facebook and would like to get my monthly reviews sent directly to your inbox, you can sign up on my website – www.LesleaWahl.com.
Until next month – Happy Reading!